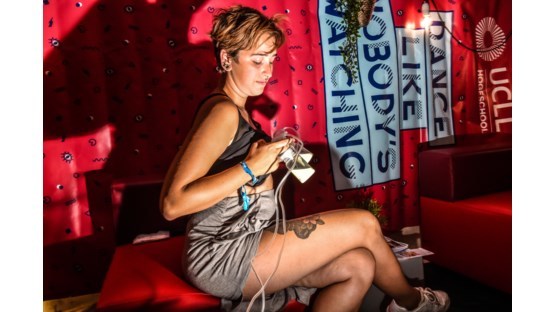 Breastfeeding at Pukkelpop
With your baby or not: if you breastfeed, the milk production does not stop. And pumping at a festival with almost 70,000 other visitors is not always an obvious case.
During PKP 2018, every festival goer who is breastfeeding and wants to pump can go to a specially equipped room in the central first aid post. This space is operated by the (student) midwives of the midwifery program at UCLL University of Applied Sciences. Here you can go to a protected zone, where all the necessary material is provided (breast pumps, storage jars, ...), as well as the possibility to put your mother's milk in custody. You can ask a (midwife) student all your questions.
It is important to provide maximum support to breastfeeding mothers, so that they can combine breastfeeding in combination with relaxation and work activities. Thanks to the 'Milk and Boobs Bar' it is perfectly possible to keep the production of breast milk up to standard. Afterwards, the women will have the choice: take the cooled milk home or leave them behind.
One of the most frequently asked questions during Pukkelpop last year was apparently: where can I express breastmilk undisturbed? A year later, the answer is there, as a collaboration between Pukkelpop and UCLL. And the initiative did not miss her start: 51 women came here on day one to get the pressure from their boiler. Good for 77 expressions. 'A very nice turnout', says Cindy Mattens, teacher of pedagogy at UCLL. It is the teachers who run the Milk 'n Boobs bar, together with students. 'We went for 20 visitors a day, so this has already been a great success.'
"I met my partner here exactly five years ago. It is for our Pukkelpop children that I express here, "laughs Sieglinde Zülkhe.
"In the past, breastfeeding mothers could go to a first aid post at Pukkelpop," says Joke Neven, team leader of the midwifery program at UC Leuven-Limburg University of Applied Sciences. 'But then you had to bring a pump machine and jars yourself. This is no longer necessary with our Milk 'n Boobs Bar.'
Their aim is to normalize breastfeeding and show that mothers do not have to stay at home because they are breastfeeding. 'And of course: encourage mothers to breastfeed for more than three months, then this initiative is necessary to make it possible. Two ladies who came by today told me that they bought their ticket after reading about this initiative. That we made it possible that they can come to Pukkelpop, I think that's great. '
"I read about it on Facebook and think it's just great, it makes Pukkelpop a lot easier for me. Everything is available here, up to the breast compresses. No idea how I would do it otherwise," says Toke.

"My son Eppo is already eighteen months old, but I still breastfeed. You have to pump, otherwise the production will stop, "says Mama Charline.
Half of the mothers also have their milk stored here. The bottles are labeled free of charge, cooled and later given in a cooler bag. Mattens herself is surprised that so many women take the trouble to pick up their milk later in the day. She also dreams aloud of the next edition, because the stand will come back anyway. The university has entered into a partnership for three years and so the workpoints are listed. 'More pumps are a must next year. And maybe more space and visibility too. '
The Milk and boobs bar of UCLL University of Applied Sciences noted 180 expressions, accounting for no less than 27 liters of breast milk.
Source: Pukkelpop, De Standaard, HLN, UCLL